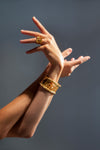 KENYA GOLD RING-BACK IN STOCK
Tax included. Shipping calculated at checkout.
Vanessa's extensive travels and her love to study cultures closely have led her to obtain a deep understanding of the African naïf art. The "Kenya" ring is part of the brand's "AFRICA" collection, which is hand sculpted from polished gold vermeil to resemble naïf African motifs and symbols.
Silver 925, 14k Gold plated.
SIZE & FIT
ONE SIZE
Weight gr 15,9gr
Adjustable from the back
Comes in a velvet pouch
Each piece is handmade from natural materials and as such may have some small flecks or scratches
DETAILS & CARE
For a longer lasting life and shine on your jewelry
Do not spray Perfume directly on your jewelry
Do not touch with oily hands
Do not apply body cream
Wash with warm water and soft liquid soap
Don't forget to look DASHING!